Posted on
(Photo from KeurimCo on Etsy)
August is National Peach Month and I really can't think of another fruit more deserving of an entire thirty-one days of celebration. The peach has been the it girl of fruits for quite some time, trending for its color, scent, flavor, health benefits, and so much more. Plus, what's not to love about a fruit that's shaped like a butt?
A week of August may have already zoomed by, but it's not too late to get peachy this month. Here is a roundup of some peach finds we hand-picked from the world wide web to get you in the spirit.
(Photo from MAME Candles)
While browsing through graphic tees on Social Sunday, feel free to also add this candle to your online shopping cart! A candle can be all it takes to fill your room with good vibes. This one from MAME is part of a three-piece Spring collection and will have your space smelling like exactly like sweet peaches in a matter of moments. The metallic, bubblegum-pink label with a little Nina Simone lyric printed on its label will also give your space a fun, aesthetic touch. We actually spoke with MAME's founder, Megan Hull, a while back to learn more about how MAME came to be so check that out
here
!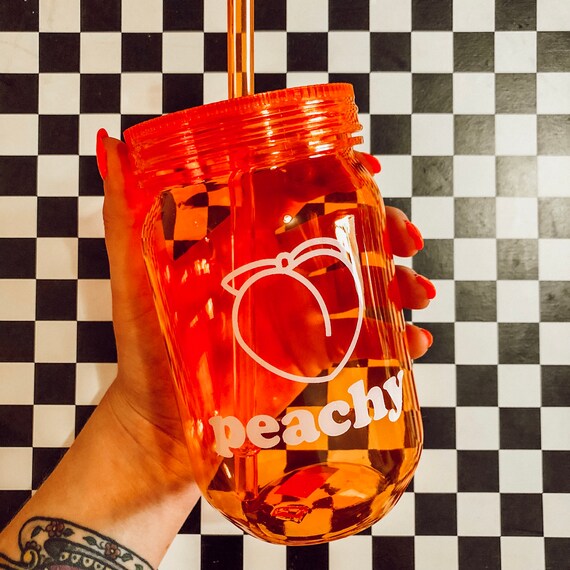 (Photo from emyddesign on Etsy)
August in NYC has been pretty hot so far, so staying hydrated is crucial. This tumbler by emyddesign on Etsy makes drinking water less of a chore. From the mason jar shape to the peachy color and graphic, it's a unique tumbler you'll enjoy all year 'round. And for only five bucks, it's definitely a sweet deal.
(Photo from Too Faced Cosmetics)
This blush is the holy grail to achieving that peachy, sun-kissed glow everyone's been craving this summer. The color payoff is unbelievable and it's totally buildable to give a variety of skintones a warm, peachy-bronze shimmer. I like to swipe this on the apples of my cheeks with an angled blush brush using a light hand, and skip highlighting and contouring all together. This product gets bonus points for its delicious peach scent and for coming with a mirror.
I'm not a huge fan of carbonated drinks (the fizziness makes my stomach uneasy for some reason) but I make IZZE's Sparkling Juices an exception. Coincidentally, the peach flavor is my favorite. It's not overwhelmingly sweet and the peach flavor doesn't taste artificial, which are usually the issues I come across when it comes to peach-flavored beverages. The juice is 70% fruit juice and 30% sparkling water, so the nutrition facts aren't intimidating at all and you know exactly what you're putting into your body.
(Photo from SKINFOOD)
SKINFOOD's Peach Sake line, which includes an emulsion, serum, and toner, is dedicated to solving pore problems with the pore-minimizing and oil-controlling properties of Japanese sake and peaches. Peaches are super beneficial to the skin, filled with Vitamins A and C which are associated with anti-aging and free radical damage reduction. They also have acids that help with acne prevention and skin rejuvenation. Also, pectin is a fiber found in the skin of peaches that can help with toning and firming the skin. I came across samples from the Peach Sake line at a Korean beauty shop and immediately decided to buy a full-sized product from the line because the samples just smelled so good! I chose the Peach Sake toner and have no regrets. The toner leaves my oily skin feeling velvety smooth, without any irritation.
Make any bag peachier just by adding this adorable furry keychain. It's from Forever 21, so the keychain is a great way to hop onto the peach trend without breaking the bank. 
One of my favorite things about K-beauty is the packaging, like the one for this hand cream. The peach container is super cute and creative. The cream itself is just as great as its packaging. It has a subtle peach fragrance and is super moisturizing, thanks to peach extract, which is a natural emollient.
(Photo from Japan Centre)
Since I was born and raised in an Asian-American neighborhood, I've practically grown up around Kasugai candy. I still see them whenever I go to an Asian supermarket and almost always pick up a pack. They're not overly sweet but seem to do the trick when I'm craving something sugary. The gummies are in individual wrappers, so I can easily shove some in my bag when I'm on the go. For the peach lovers out there (or anybody, really), the peach flavor is a must-try.
Back-to-school shopping is around the corner, so be sure to add these adorable sticky notes to your shopping cart. Like many people, I'm a sucker for cute stationary to make my desk more Instagrammable and these peach-shaped sticky notes will give any planner a sweet touch. Tons of fashion bloggers have lately been sporting bags worn across their chests. This peach one by Herschel is the perfect combination of stylish and functional. The color can add an extra splash of color and femininity to any outfit, while still keeping things casual.
What are some other peach items you've been wanting to try? Let us know in the comments!